Les Archives du Congo
À partir des archives d'un membre d'une famille coloniale du début du siècle précédent, Gerda Van Damme revisite le passé, s'interroge sur ce qui a pu être et laisse ouvert à l'interprétation de nos yeux contemporains ce qui s'est passé dans un passé historique et non-fictif.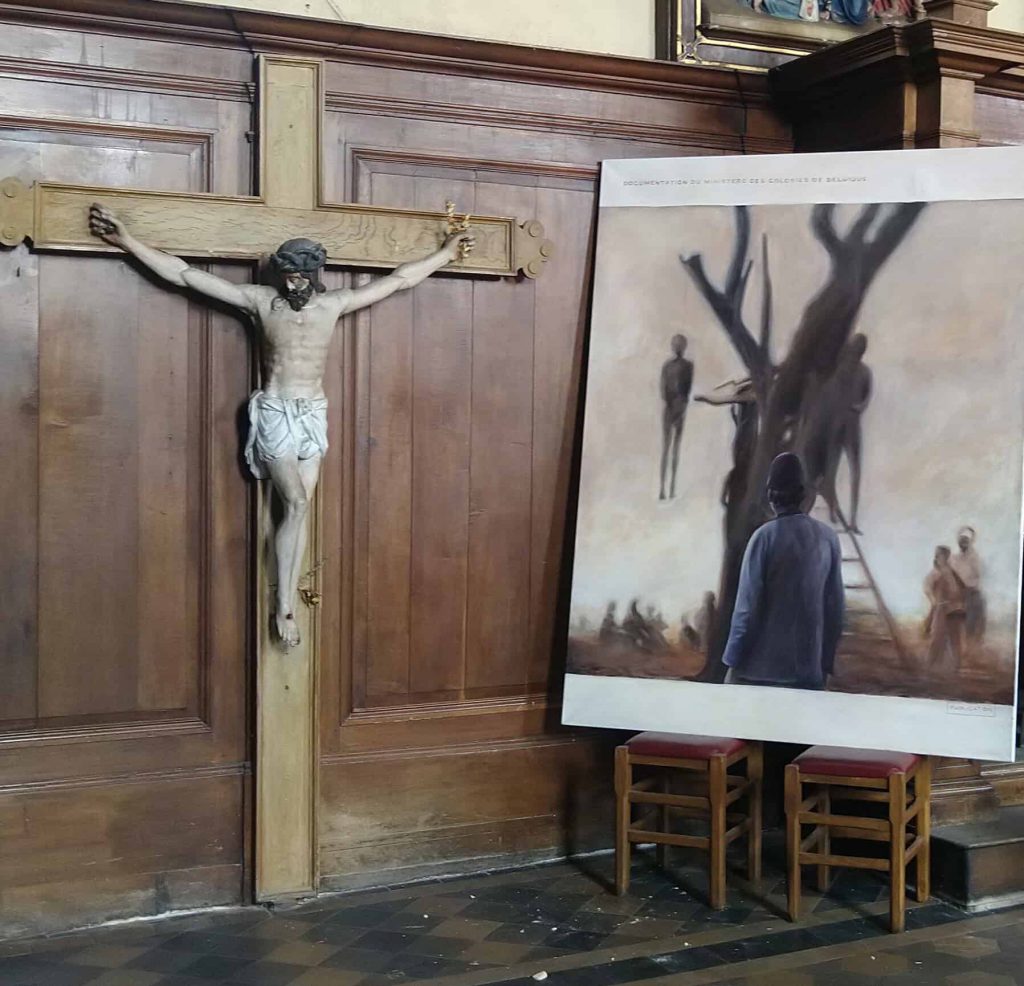 Visa pour publication
Vue de l'exposition dans l'église Notre Dame de Mont Carmel, Thuin, 2021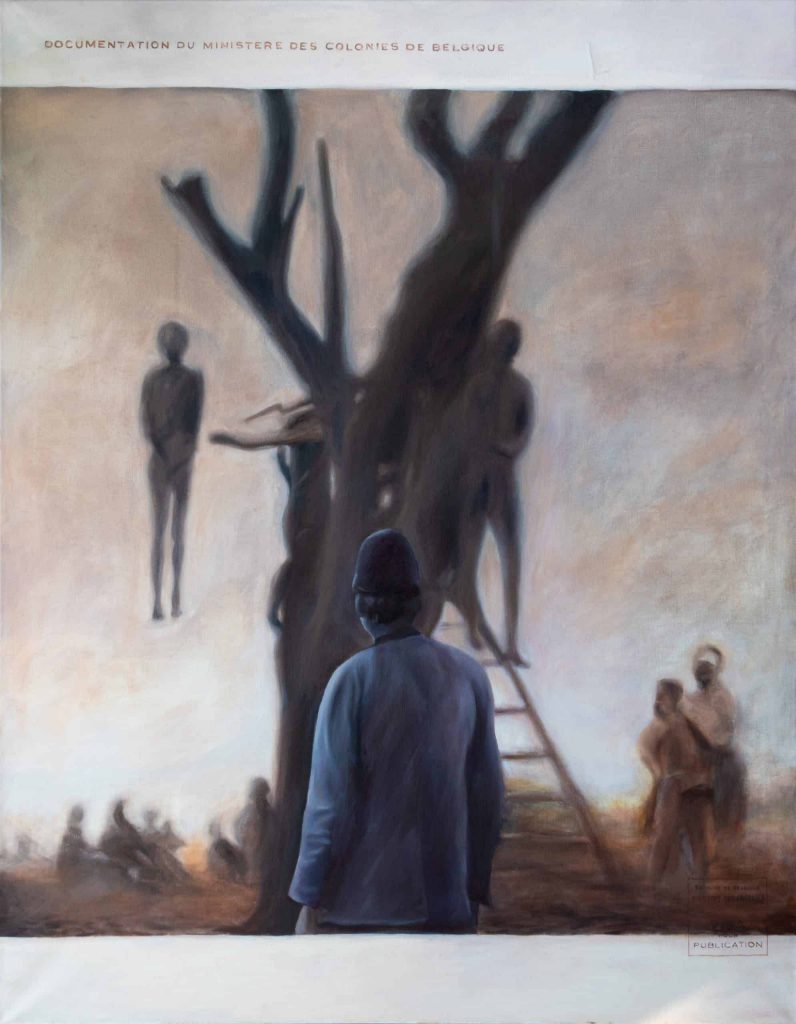 Visa pour publication
Huile sur toile, 180 x 140 cm, 2020
Le document à la base de cette peinture était un communiqué de presse du ministère belge des Affaires coloniales et représente une scène en Afrique de l'Est où une personne centrale regarde comment les cadavres d'africains pendus sont descendus d'un arbre. L'auteur du communiqué utilise cette scène cruelle pour accuser les Allemands. La légende sur le document disait : « Africains pendus par les Allemands en Afrique de l'Est » (ou en d'autres termes « Nous ne l'avons pas fait, c'était la faute des Allemands ! »).
C'est une cruauté qui ‒ au 21ème siècle ‒ dépasse notre imagination. La réalité du tableau est choquante pour le spectateur d'aujourd'hui. Mais ce genre de cruauté se produit encore tout le temps. Quelque part. Et nous le savons. Avec le mouvement « Black Lives Matter », sa pertinence actuelle est indéniable.
La peinture ne parle pas seulement d'un événement cruel. Il s'agit aussi de communication, de la distance que les documents peuvent créer par rapport à la réalité, et de notre façon de regarder les documents, d'où le titre « Visa pour publication ».
La personne centrale, vue de dos et en grandeur nature, a été « isolée » du reste de la scène par une tonalité de couleur différente et un aspect moins flou, tandis que le reste de la scène est flou. Cela permet une forme d'identification « inconfortable ».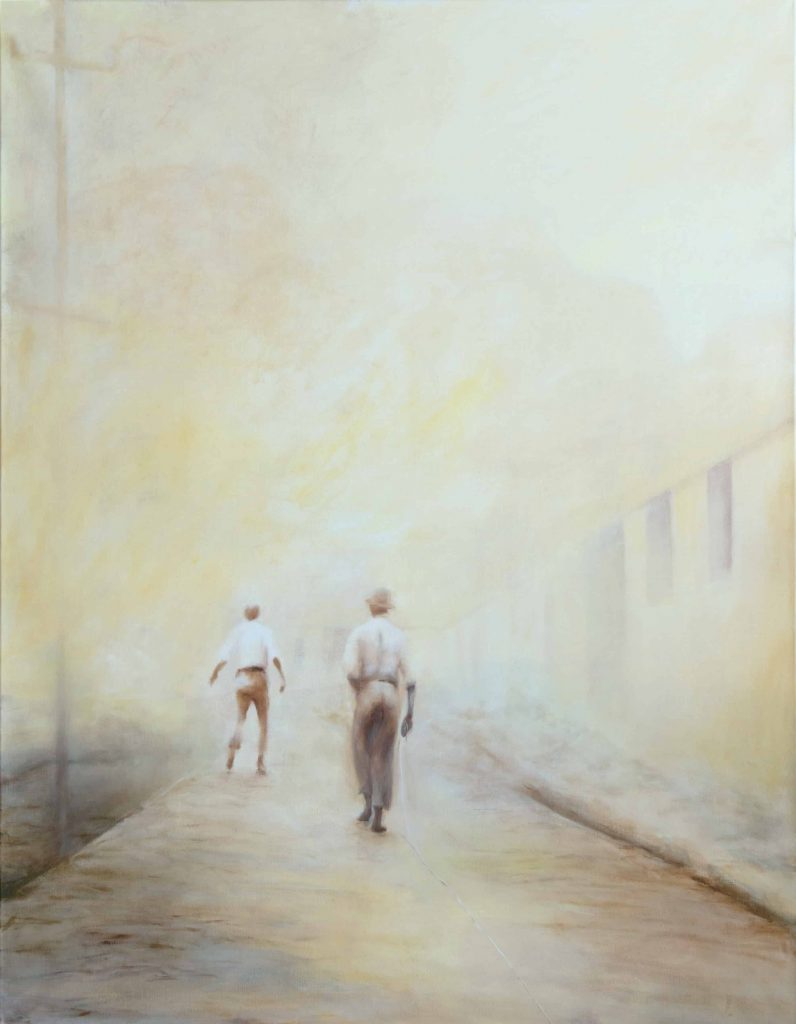 Measuring Despair
Oil on canvas, 180 x 140 cm, 2020
Who is the man running in despair? And what is his relation to the man following him, a meter in his hands?
This painting - equally as the original document it is based upon - leaves the viewer with more questions than answers.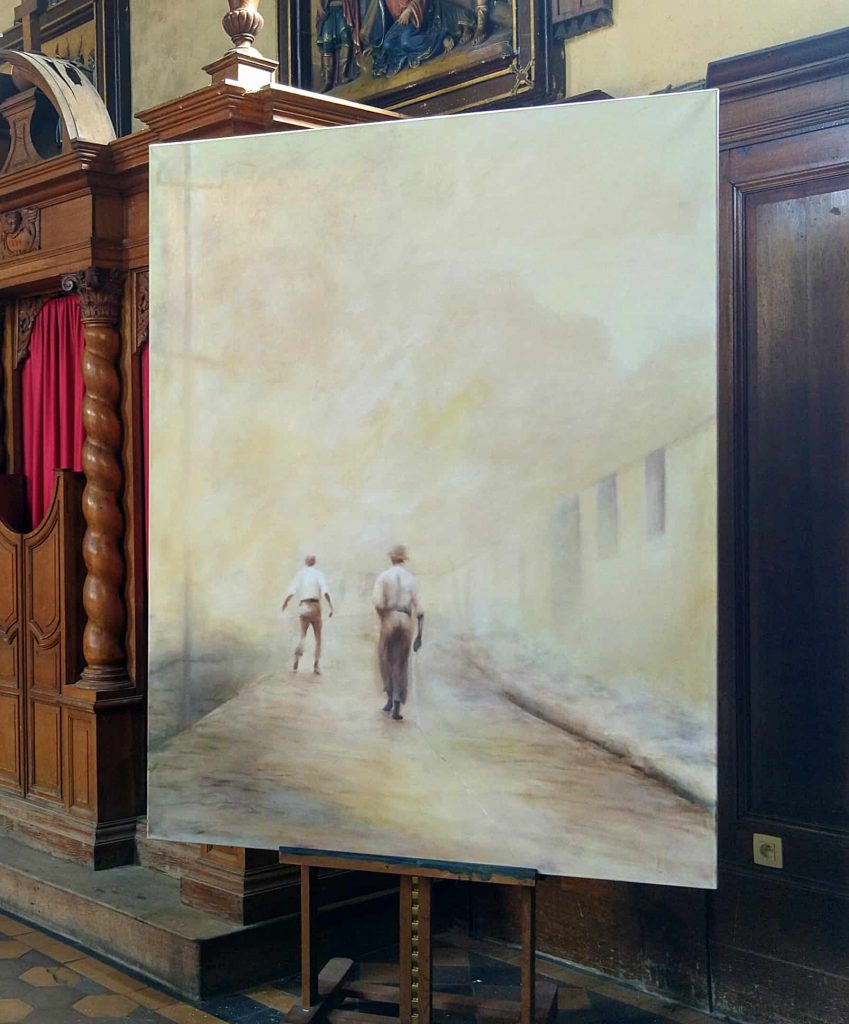 Measuring Despair
Exhibition view in Church Notre Dame de Mont Carmel, 2021